Cartwright Conversions has supplied more than 130 patient transport vehicles to Falck UK for a major contract that will operate in the South of England.

In just under three months the North Lincolnshire-based converter designed and built over 80 patient transport vehicles and 12 high dependency units – all on MAN TGE – and a further 34 wheelchair accessible vehicles (WAVs) on Renault Trafic.  

The vehicles will be operated by Falck Ambulance UK, the UK division of Falck, a global provider of ambulance services across Greater London on behalf of Imperial College Healthcare NHS Trust. 

Each PTS vehicle has been designed with universal floor tracking so the seats can be removed when needed and replaced with a stretcher or restraints for a wheelchair. This gives Falck greater flexibility in deploying its fleet on a daily basis.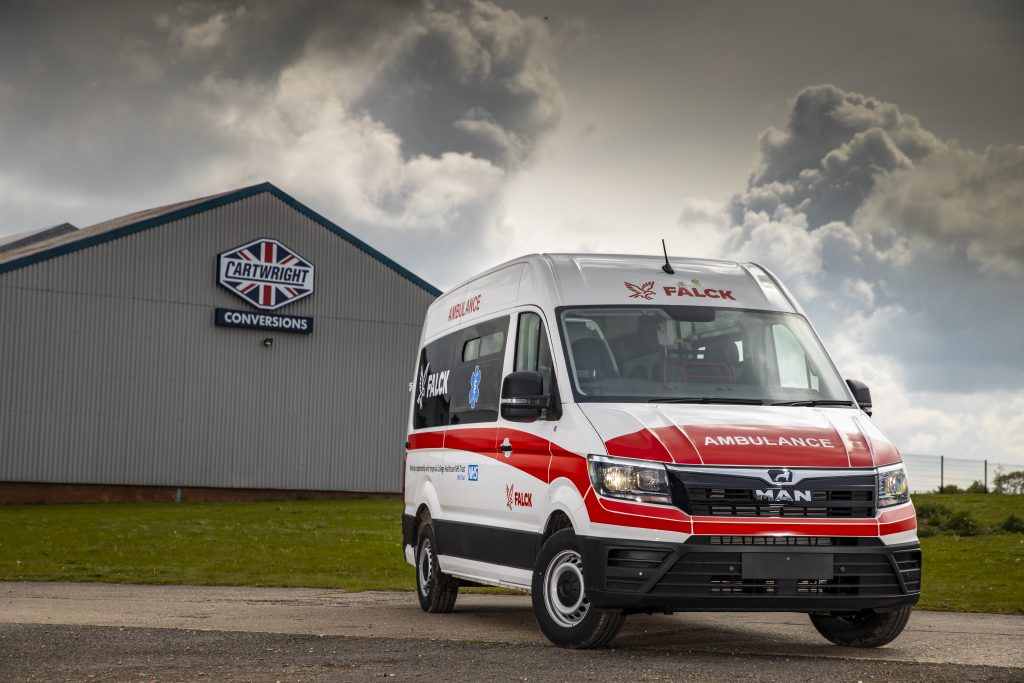 For maximum efficiency the vehicle also has space for a carry chair and a powered stair climber with a separate storage pen next to the driver for folded wheelchairs.

Simon Thwaites, Head of Fleet, Falck Ambulance UK said: ""These new cutting edge conversions, all equipped and built using the latest patient transport healthcare practices, will help us deliver not only a greater level of operational excellence, but a more efficient and modern level of service throughout the cycle of patient care."

Finished with Falck's striking branded bump pads and red piping on the seats, this vehicle certainly looks the part but it is also one of the safest vehicles on the market. Every PTS vehicle delivered in this contract has European Whole Vehicle Type Approval (EWVTA).
Steve Shaw, Managing Director of Cartwright Conversions added: "These vehicles are the first we have undertaken in our new premises so it is something of a milestone for us.

"The 28-acre site in North Lincolnshire gave us the capacity we needed to design and build over 130 vehicles in a short space of time. This is a fantastic achievement made possible due to the great relationship we have with everyone at Falck Ambulance."