Cartwright Supplies Vehicles to E-zec Medical in Major Contract Win
Cartwright Conversions has delivered the final ambulances to E-zec Medical in a deal with the private ambulance company to supply more than 100 patient transport vehicles.
Yorkshire-based Cartwright specialises in vehicle conversions for the healthcare industry including frontline ambulances, patient transport service (PTS) vehicles and wheelchair accessible vehicles.
E-zec Medical is one of the largest independent private ambulance companies in the UK with a fleet of more than 400 vehicles and 20 bases across the Country.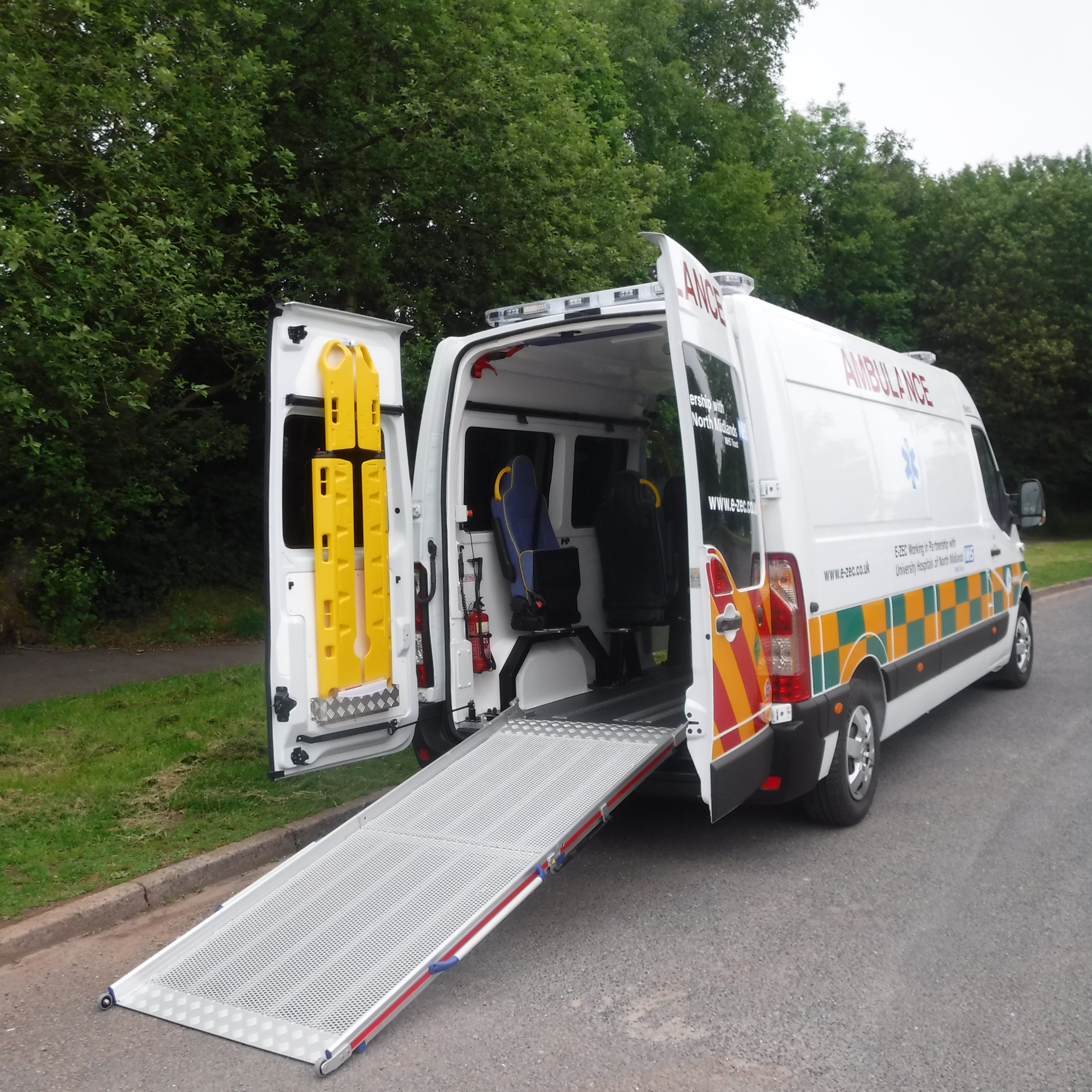 Cartwright won the contract earlier in the year to build the Fiat Ducato PTS vehicles and Renault Trafic wheelchair accessible vehicles. It was followed-up with an order for a further seven high dependency units on a Renault Master panel van (pictured right).
Designed by Cartwright's team of experienced in-house engineers, these vehicles will be used by E-zec on two new NHS contracts covering Suffolk and Staffordshire.
Managing Director of E-zec, Paul Swann, said: "Cartwright Conversions has built in excess of 100 vehicles, all delivered on time and to specification. We've been very pleased with the relationship we have built and see this as a great opportunity to work together in the future."
The seated PTS vehicles are fitted with a ramp and have fold-away seats on the nearside to make room for two wheelchair passengers. A storage pen and aluminium cant rail lockers make efficient use of the space inside the vehicle and its easy wipe-down lining ensures infection control.
In addition, Cartwright's engineers designed an alternative version for E-zec with a stretcher in place of two offside seats. Both versions are fitted with piped oxygen for the comfort of patients that need it.
The high dependency vehicles have a trauma wall and a full emergency warning system. E-zec specialises in contracts that involve some form of high dependency work using fully-equipped ambulances operated by a paramedic crew.
Steve Shaw, Commercial and Operations Director at Cartwright Conversions said: "We were very pleased to work with E-Zec Medical and provide the ambulance vehicles that they required for their new NHS contracts. We worked with them closely to meet E-Zec's specifications and everything was delivered in time for the start of each contract."
The Renault Trafic wheelchair accessible vehicle (WAV) supplied to E-zec is a popular product for Cartwright's mobility customers. Part of a range of WAVs available from Cartwright on the national Motability Scheme, this conversion is built to high standards.